INTERNACIONAL >
HOT CHIP
en México, 26 de Noviembre
Publicación: 22/11/2010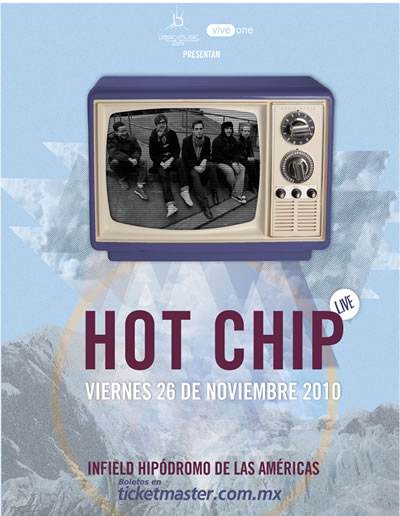 Basic Music y Vive-One Entertainment presentan:

HOT CHIP (LIVE)
En concierto!
Ciudad de Mexico
Viernes 26 de Noviembre de 2010
Infield Hipodromo de las Americas


Presentando su nueva produccion ONE LIFE STAND
y su tracks:

-Ready for the floor
-One life stand
-I feel better
-Over and over


Hot Chip es Creado en 2000 por, Alexis Taylor y Joe Goddard. Tras autoeditar varios álbumes, en 2003 sacan su primer álbum Coming on strong, en 2005 firmarían con la discográfica EMI para Reino Unido y su segundo álbum, The warning, sería un Éxito Total,Su single "Over and over" sería considerado como "canción del año 2006" por la revista musical británica NME.

En 2008 sale a la venta su álbum, Made in the dark, y su primer single "Ready for the floor" alcanzó su máximo nivel en el UK singles chart.El grupo también destaca por sus actuaciones en vivo y sus remixes de otros temas.

Presentandose en Europa en festivales como el Sónar o el FIB,este 2010 lanzan su nuevo disco One life stand,del cual se desprende el sencillo "I Feel Better", siendo acto principal en los festivales más aclamados en el mundo coachella, glastonbury por mencionar algunos.

DISCOGRAFIA:

* 2010: One Life Stand.[2]
* 2008: Made in the Dark.
* 2006: The Warning.
* 2004: Coming on Strong.


PREMIOS:

2006 The Warning Top Electronic Albums 13
2007 DJ Kicks Top Electronic Albums 23
2008 Made In The Dark European Top 100 Albums
2008 Made In The Dark The Billboard 200 109
2008 Made In The Dark Top Electronic Albums 2
2008 Made In The Dark Top Heatseekers 1
2010 One Life Stand The Billboard 200 103
2010 One Life Stand Top Electronic Albums 5
2010 L One Life Stand Top Heatseekers 1



YA ESTAN A LA VENTA LOS BOLETOS EN TICKETMASTER Y PUNTOS DE VENTA: ***APROVECHA LA PREVENTA ESPECIAL EN SEPTIEMBRE.


www.ticketmaster.com.mx

PUNTOS DE VENTA:

-KARMA BAGEL CONDESA
-LA OSTRA CONDESA
-LA OSTRA SATELITE
-LA OSTRA SANTA FE
-RIOMA CLUB


HORARIO: 9:00PM- 4:00AM

EVENTO PARA MAYORES DE 15 AÑOS

Warm up:
-Timothy Brownie
-M.I.D.A.S.


BOLETOS:

*******PREVENTA ESPECIAL VIVE ONE GENERAL $350 hasta al 30 de Septiembre o Agotar existencias.*******

DESPUES...

-GENERAL $450

-VIP $700
Incluye:
*Zona preferencial
*Mobiliario
*Meseros

-NEOFREAK ZONE $1,100
Incluye:

*Zona preferencial con la mejor vista
*Estacionamiento privado dentro del infield del hipodromo
*Entrada preferencial al evento
*Drinks de cortesia
*Mobiliario lounge
*Decoracion especial
*Meseros
*ENTRADA AL AFTER PARTY OFICIAL EN RIOMA CLUB
*ENTRADA AL EVENTO CESAR MERVEILLE (CADENZA NIGHT) EL 10 DE SEPTIEMBRE EN RIOMA CLUB ENSEÑANDO SU BOLETO NEOFREAK DE HOT CHIP
*ENTRADA AL EVENTO ERNESTO FERREYRA (CADENZA NIGHT) EL 15 DE OCTUBRE EN RIOMA CLUB ENSEÑANDO SU BOLETO NEOFREAK DE HOT CHIP
Y TODA LA BUENA VIBRA DE NEOFREAK FAMILY.


Visita WWW.HOTCHIPMEXICO.COM para mas informacion.

---
NOTICIAS RELACIONADAS A "HOT CHIP"