INTERNACIONAL >
Placebo en México
Palacio de los deportes
Publicación: 18/8/2006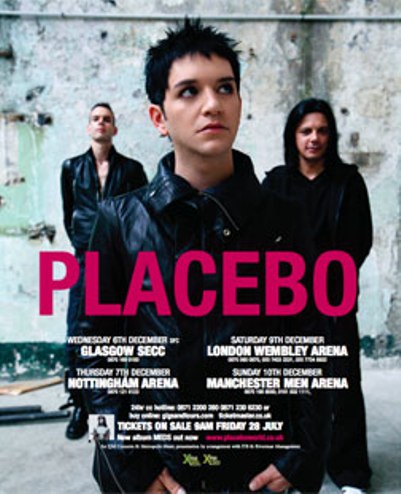 Estaba visitando el sitio oficial de Placebo y me encontre con el tour de este fin de año y por supuesto ¡esta incluido México!.

Date City & Venue Country

AUGUST
13.08.06 Arenele Romane, Bucharest
Romania
14.08.06 Sziget Festival,
Hungary
16.08.06 Colmar Wine Festival (Alsace) France
18.08.06 Lowlands Festival Holland
19.08.06 Pukkelpop Festival Belgium
25.08.06 Leeds Festival England
27.08.06 Reading Festival England


SEPT
02.09.06 Konstanz, Rock Am See festival Germany
03.09.06 Istanbul, Rock N' Coke Festival Turkey
05.09.06 Athens, Terra Vibe Greece
09.09.06 Beijing Pop Festival, Chaoyang Park, Beijing China
15.09.06 Melbourne, Festival Hall.
Australia
16.09.06 Canberra, Royal Theatre.
Australia
18.09.06 Brisbane, Convention Centre.
Australia
20.09.06 Sydney, Hordern Pavillion.
Australia
21.09.06 Sydney, Hordern Pavillion Australia
29.09.06 Zenith, Lille.
France
30.09.06 Zenith, Lille.
France


OCTOBER
02.10.06 The Bercy, Paris France
03.10.06 The Bercy, Paris France
06.10.06 Zurich, Hallenstadion Switzerland
07.10.06 Amneville, Galaxie, France France
09.10.06 Milan, Palamazda, Italy Italy
11.10.06 Stuttgart, Schleyerhalle Germany
12.10.06 Erfurt, Messehalle Germany
13.10.06 Munich, Olympiahalle Germany
17.10.06 Phoenix Marquee Theater * USA
18.10.06 San Diego House of Blues * USA
19.10.06 Las Vegas House of Blues * USA
22.10.06 Los Angeles Greek Theater USA
24.10.06 San Francisco Warfield
USA
25.10.06 Portland Roseland
USA
26.10.06 Seattle Showbox USA
28.10.06 Denver Gothic Theater USA
2910.06 Kansas City Beaumont Club USA
31.10.06 Mexico City Sports Palace* Mexico

*Placebo Only, headline show

NOVEMBER

02.11.06 Minneapolis Fine Line

03.11.06 Chicago Riviera

04.11.06 Cleveland Agora Ballroom

06.11.06 Philadelphia Electric Factory

07.11.06 New York Nokia Theater

08.11.06 Boston Roxy

19.11.06 Geneva, Arena Switzerland
21.11.06 Lyon, Halle Tony Garnier France
22.11.06 Toulouse, Zenith France
23.11.06 Clermont Ferrand France
25.11.06 Palacogressi, Jesolo (Venice). Italy
26.11.06 Paladozza, Bologna. Italy
30.11.06 Oberhausen, Arena Germany


DECEMBER
04.12.06 Zenith, Nantes France
06.12.06 SECC, Glasgow Scotland
07.12.06 Nottingham Arena, Nottingham England
09.12.06 Wembley Arena, London England
10.12.06 Evening News Arena, Manchester England
13.12.06 Vienna, Stadthalle Austria
15.12.06 Berlin, Treptow Arena Germany
16.12.06 Hamburg, Sporthalle Germany
17.12.06 Leipzig, Messehalle Germany
19.12.06 Hannover, AWD Hall Germany
20.12.06 Mannheim, Sap Arena Germany

No dejen de visitar el sitio oficial: http://www.placeboworld.co.uk/

Y esperen noticias pronto sobre la venta de boletos.

---
NOTICIAS RELACIONADAS A "Placebo en México "