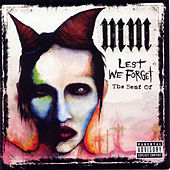 Marilyn Manson
Lest We Forget - The Best Of
Universal Music Group

Es dificil creer que algunos años atras, los religiosos no tenian peor pesadilla que Marilyn
Manson. Este album es una descripcion del mal momento que esta pasando Manson en la musica:
Incluye todos los exitos que alocaron a la juventud en su momento como "The Dope Show", "The
Beautiful People", y su gran cover de los Eurythmics "Sweet Dreams". Su mezcla de gotico, metal,
fetiches, todavia suena en estas canciones, pero Manson ha perdido la escencia demoniaca,
con la salida de algunos de los musicos claves. Su unica cancion nueva es otro cover (que raro no?)
de Depeche Mode "Personal Jesus", pareceria que Manson vino como un jinete del apocalypsis,
pero necesita sacar mejor material que esto para no convertirse en un simple jinete de rancho.