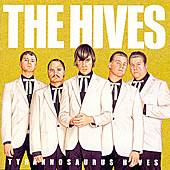 The Hives
Tyrannosaurus Hives


Es hora de que los Hives, demuestren lo que tiene. Ellos vinieron de Suecia hace dos a├▒os,
con su sencillo "Hate to Say I Told You So", como parte de una nueva ola de nuevas bandas dando al rock & roll nueva vida. Como los Strokes, Los White Stripes, y Los Vines, los Hives llegaron con estilo. Ellos traen trajes que combinan, unos musicos prendidos, riffs de punk barato y un vocal medio orate Pelle Almqvist.

Ahora los Hives tienen que encarar lo mismo que sus camaradas de garage: ┬┐Que hacer para un segundo disco?, si eres Los Strokes, puedes ampliar tu concepto ritmico en nuevas rolas. Los white stripes, puedes sacar el estilo, probar que puedes salirte con la tuya excepto que la baterista cante, o bien puedes hacer como Los Vines que tratan de vender rolas baratas imitando a su primer disco. O puedes sonar tan mal como las nuevas bandas de metal dinosaurio a las cuales tratas de remplazar (Jet).

Pero Los Hives tienen una estrategia inteligente. Ellos refinaron su sonido con una precisi├│n casi cientifica. Este disco es tan eficiente que hace que el Veni Vidi Vicious suene como si fuera tocado por una banda principiante. Ademas agregaron teclados a los riffs punketos que han venido manejando para dar mayor amplitud sonora, y la voz de Almqvist como siempre arriba de los riffs punketos. Algunos de las rolas recomendables "Abra Cadaver", "Walk idiot Walk" que es el primer sencillo, "Antidote", y "See through head".