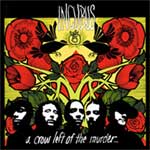 INCUBUS
A Crow Left Of The Murder


Despues de casi tres anos del lanzamiento de morning view el disco que confirmo el potencial de la banda, Incubus esta de regreso con sumas reciente produccion A Crow Left Of The Morder, El tema que abre el disco con el primer sencillo "Megalomaniac", marca la tónica para reafirmar el potente hard-rock tan característico del sonido de Incubus con poderosos riffs y beat.

El video de "Megalomaniac", grabado por la aclamada directora Floria Sigismondi, ilustra el potencial del tema para convertirse en protesta política, aunque lo político es imposible de separar de lo personal en gran parte de A Crow Left Of The Murder.

No queda duda alguna tras escuchar el sonido y la furia de A Crow Left Of The Murder que Boyd y compania han madurado lo suficiente como para postularse como para tener el mejor disco de este 2004. Después de todo, Boyd y compañía lograron un doble disco de platino por Make Yourself (1999), del que se extrajo "Pardon Me", Top 10, así como "Stellar", todo un éxito en el radio, y el citado "Drive", y por Morning View (2001), que debutó en el número 2 del Billboard 200 e introdujo temas fundamentales en radios como "I Wish You Were Here" (número 2) "Warning" (número 3) y "Nice To Know You" (número 9).

Este disco es una gran producción ampliamente recomendada.