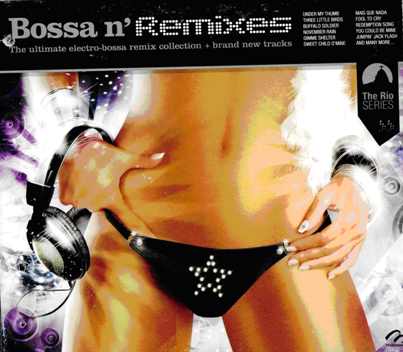 VARIOS
BOSSA AND REMIXES


Por: Elcuervo2099

Tarde calurosa en la Cd de México, transito pesado, aglomeraciones, estrés generalizado, un día típico en una urbe como esta.

Sin pensarlo mucho lo que se requiere para este clima, es una bebida refrescante… así, te diriges al refrigerador y te das cuenta de que está vació, no hay nada y el calor sigue elevando, la falta de agua, hace estragos en la garganta, que se amarga, por la falta del vital liquido.

Sin dudarlo mucho, decides salir a conseguir esa bebida que te devolverá ala tierra y te sacara del infiernillo en que te encuentras.

En el ascensor del viejo edificio suena una suave y melosa voz femenina interpretando "NOVEMBER RAIN"… Te tranquiliza, pero la sed y la deshidratación continúan. Caminar por las sombras que todavía generan algunos pocos árboles, no es mala idea, a final de cuentas el supermercado esta a escasas cuadras de tu lugar de origen.

Sin titubear en tu camino llegas al recinto buscado, no hace falta una canasta, solo necesitas una bebida refrescante. Entre latas, botellas, frascos empaques metalizados, promociones y ofertas, te reencuentras a esa melosa voz femenina suave, tranquilizante, que te acompaña en tu recorrido, versiones tiernas de Sweet child o mine, Jumping Jack flash, Angie, Since I dont have you y un largo etc te llevan de la mano para que encuentres lo que estas buscando.

Así entonces, lo encuentras, pagas y lo bebes, al final emprendes el recorrido a tu lugar de origen a continuar con lo que dejaste pendiente.

Así de simple es Bossa and remixes, música de elevador, supermercado y oficina, así de simple y aburrido, no raya en lo terrible por que tiene el don de tranquilizar a la Bestia.

PD. Si Morrisey llego al rescate.