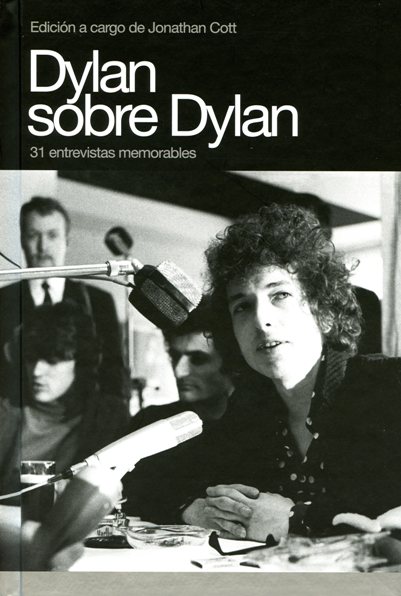 JONATHAN COTT
Dylan sobre Dylan
Global Rhythm

Dylan sobre Dylan
31 entrevistas memorables
(incluye CD)
Editor: Jonathan Cott
P√°ginas: 480
Precio $295.00

¬ŅC√≥mo se atrapa a la m√°scara m√°s esquiva del carnaval? ¬ŅC√≥mo se retrata al santo m√°s proteico del calendario? Con palabras, claro, pero nunca por mucho tiempo, ya que el bendito personaje (Bob Dylan, naturalmente) cambiar√° enseguida de disfraz o se bajar√° del altar antes de que terminemos el dibujo. De ah√≠ que la estampa menos deficiente consista en esa figura movediza y parad√≥jica construida por el propio cantante a lo largo de sus m√ļltiples avatares y reflejada de forma discontinua en las treinta y una conversaciones que recoge este volumen. Van desde los primeros sesenta hasta nuestros d√≠as, y tomadas en su conjunto constituyen el mejor documento para aproximarse a la evoluci√≥n permanente (y a la revoluci√≥n intermitente) del hombre que hace casi cincuenta a√Īos se present√≥ con una guitarra y una arm√≥nica en el Village neoyorquino. Jonathan Cott ha incluido en esta ineludible antolog√≠a las seis grandes entrevistas publicadas por Rolling Stone, la ya legendaria conversaci√≥n con Nat Hentoff (Playboy, 1966), un mano a mano con Sam Shepard convertido por √©ste en di√°logo teatral (Esquire, 1987) y, last but not least, la grotesca pl√°tica sostenida por el cantante con A.J. Weberman, ministro de defensa del Frente de Liberaci√≥n Dylaniano (East Village Other, 1971).

Jonathan Cott ha trabajado de editor adjunto de la revista Rolling Stone desde su fundaci√≥n y ha colaborado con New York Times, Parabola y The New Yorker. Es autor de diecis√©is libros, entre los que destacan On the Sea of Memory, una biograf√≠a cr√≠tica de Bob Dylan, Bob Dylan:The Essential Interviews (editado por Global Rhythm Press) y de numerosos vol√ļmenes de entrevistas, entre las que destaca Visions and Voices. Asimismo, se ha ocupado de la edici√≥n del √ļltimo libro de Studs Terkel, And They All Sang (que tambi√©n publicar√° Global Rhythm Press). Actualmente vive en Nueva York.