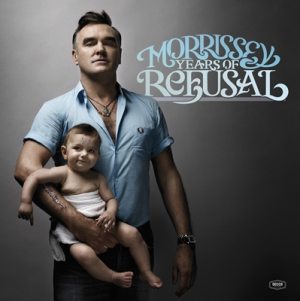 MORRISSEY
Years of Refusal


Por Sergio The Kid
Eclectico

D√©cima placa solista de Morrissey, producida por Jerry Finn, alb√ļm que aparentemente tiene como fecha de salida el 16 de Febrero de este a√Īo.

El disco nos presenta a un Morrissey ya formulado, es decir, el disco no es nada nuevo bajo el sol, sobretodo porque se repite el sonido que ha venido trabajando desde You Are The Quarry y Ringleader Of The Tormentors.

Este nuevo pasaje del ex Smith parece más bien la continuación y conclusión (esperemos que así sea) de los dos albumes mencionados anteriormente.

Grabado durante fines de Noviembre y principios de Diciembre del 2007 en los estudios Conway en Los √Āngeles; para ser mezclado y masterizado a principios de Febrero de 2008.

Dos de los tracks que conforman esta producción fueron presentadas en el grandes éxitos lanzado en 2008, mientras que algunas más fueron estrenadas durante su gira 2007/2008.

Resulta f√°cil de escuchar, es ampliamente recomendable para quienes sea la primera vez que se acercan a la m√ļsica del compositor ingl√©s.

La mayoría de los pasajes musicales son bastante Pop y de fácil digestión; cargado de mucha guitarra entre el sonido Rickenbacker y bajos distorcionados.

Amplias din√°micas en bater√≠a que refrescan al Brit Pop de convencionalismos de un cl√°sico cuatro cuartos com√ļn y corriente.

Las letras van desde el desamor y experiencias maduras del siempre controversial Steven Patrick Morrissey.

El tracklist completo:

1.-Something Is Squeezing My Skull
2.-Mama Lay Softly On The Riverbed
3.-Black Cloud
4.-I'm Throwing My Arms Around Paris
5.-All You Need Is Me
6.-When Last I Spoke To Carol
7.-That's How People Grow Up
8.-One Day Goodbye Will Be Farewell
9.-It's Not Your Birthday Anymore
10.-You Were Good In Your Time
11.-Sorry Doesn't Help
12.-I'm OK By Myself

Visita el blog de Sergio the Kid.