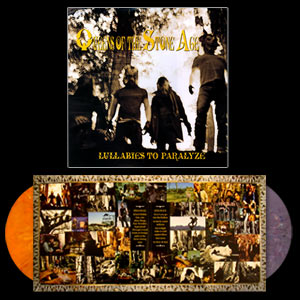 Queens of stone age
Lullabies to paralyze


'ÄúLullabies to paralyze'ÄĚ sin duda es un mezcla explosiva que deja Resaca como la combinaci√≥n de tequila con vodka.,

Queens, esta de regreso auque desmembrado por la perdida del extrovertido Nick Oliveri, quien fue despedido por su mala conducta, ¬ŅQue no se trata de eso ser ROCKSTAR?, Oliveri fue despedido por desnudarse en el escenario y aventar botellas e inclusive hasta su bajo.

Con la salida de Oliveri el sonido de la banda ha cambiado un poco, de hecho se volvió aburrido y repetitivo, las canciones de cuna son en varios tonos y colores pasando por baladas rock hasta lo ruidoso.

El disco en general muy clavado y algo aburrido, pero no deja de ser producto de Queens, y tiene un par de canciones muy chingonas recomendables, este disco es para los fans del rock post grungeteros.