INTERNACIONAL >
KINGS OF LEON
Ofrece descarga Gratuita
Publicación: 28/7/2008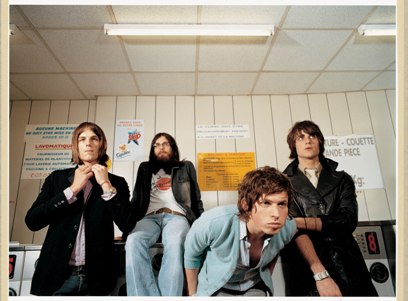 KINGS OF LEON
Prepara su regreso y comparte nueva música en su sitio oficial
www.kingsofleon.com
www.myspace.com/kingsofleon


Durante toda esta semana descarga gratuitamente el tema
'Crawl'

Y espera pronto por "Sex On Fire"

Primer sencillo de su próximo álbum de estudio

"Only By The Night"
En tiendas el 23 de septiembre

'Only By The Night' fue grabado en los Blackbird Studios de Nashville, Tennessee bajo la producción de Angelo Petraglia, Jacquire King, y Kings of Leon.

'Only By The Night' es una poderosa y extensiva afirmación para la carrera de los Kings Of Leon como una de las bandas con mayor influencia musical para este 2008 y a futuro. Sigue a sus anteriores álbums 'Youth And Young Manhood', 'Aha Shake Heartbreak' y 'Because Of The Times', mismos que ha convertido a KOL en un grupo prolífico y bien respetado entre la crítica.

Durante los pasados meses, Kings Of Leon se presentaron en Glastonbury, Oxegen, T In The Park y Summercase. En Agosto estarán presentes en el Festival All Points y el V Festival.


---
NOTICIAS RELACIONADAS A "KINGS OF LEON"