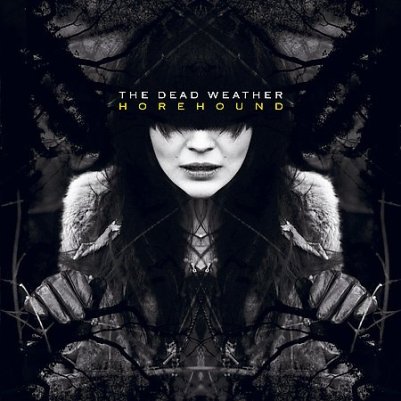 THE DEAD WEATHER
Horehound


Por: Johnny The Kid

Al parecer Jack White no puede quedarse estático en una sola banda, y esto es porque ahora regresa con otro proyecto ambicioso e igualmente creativo.

The Dead Weather es el nombre de la banda conformada por Alison Mosshart como voz principal (Voz femenina en el dueto The Kills), Jack Lawrence (The Raconteurs / The Greenhornes) en el bajo, las guitarras de Dean Fertita (Queens of the Stone Age), y a Jack White (The White Stripes / The Raconteurs) en la rítmica de la batería.

El álbum debut de esta súper agrupación no es de pretensiones, es de acciones, y es que además de ser oscuro en la mayoría de los cortes, es también un punto de referencia de la música trascendente de esta primera década del nuevo siglo.

Si bien es cierto que la tendencia de crear súper bandas se ha puesto de moda (Audioslave, Velvet Revolver, A Perfect Circle), también lo es que estos proyectos en su mayoría son creados únicamente con el fin de hacer papeles verdes.

Afortunadamente no es el caso de esta alineación; el material hizo el debút en los estudios Third Man Records (discográfica fundada por Jack White), en Nashville Tennessee.

Los 11 tracks que componen al LP satisfacen al más exigente, ya que pasan desde el rock stoner, el blues, el electroclash y música experimental.

Sin lugar a dudas uno de los discos del año, y es por nada, pero los proyectos de Jack White (a quien considero personalmente líder musical de esta generación) tienen el toque de Rey Midas.


El tracklist completo:

1. 60 Feet Tall
2. Hang You From The Heavens
3. I Cut Like A Buffalo
4. So Far From Your Weapon
5. Treat Me Like Your Mother
6. Rocking Horse
7. New Pony
8. Bone House
9. 3 Birds
10. No Hassle Night
11. Will There Be Enough Water?