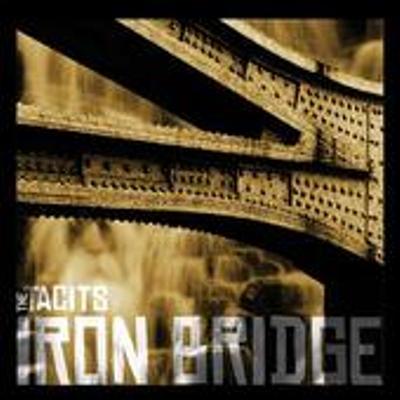 THE TACITS
Iron Bridge
Iguana Records

The Tacits
Iron Bridge
Por: Angel el Rocka Sanchez

En esta ocasión presentamos una nueva propuesta, The Tacits, agrupación poblana con casi 2 años de trayectoria. Hasta el momento han editado un E.P. titulado "Korova" editado por "NoTV Records", su primer L.P. lanzado en este 2007 "Iron Bridge" distribuido por 'Iguana Records', una grabación en vivo; y están a punto de editar en Francia "Vauban Hommage", un CD acompañado de un DVD. Este último episodio musical tiene la particularidad de haber sido grabado en "La Citadelle" fortaleza histórica construida en el siglo XVII en la ciudad de Besançon, Francia.

La banda conformada por Jan Ingram (bajo/vocales), Angel Parra (batería), Alejandro Tapia (guitarra), Felipe Quintero (saxofón) y Arnaud Daniset (trombón); suenan en "Iron Bridge" a un viaje oscuro que cuestiona la cotidianidad de nuestro país, con un tono dramático. Cada una de las rolas se sustenta sobre una base musical rockera clásica de los sesenta, matizada con toques metálicos que atrapan al escucha en un recorrido sonoro exquisito y muy dinámico.

El primer track "sleeping faces" es potente y directo, hace que no cambies de disco hasta que te despiertes y te atrevas a cruzar el puente de acero que une tu ser con otras realidades. La letra de esta rola de inmediato invita a no esperar, aprovechar todas esas cosas que estamos dejando pasar con nuestra posición pasiva.

Las nueve canciones que conforman este disco, son una amalgama de muchas influencias. Esta es una de esas bandas que te hace sentir que suenan a una banda pero a la vez a otra diferente. Musicalmente el trabajo de estos muchachos es excepcional, aunque en ocasiones se percibe un cierto des balance entre la parte vocal y la melodía de cada pasaje sonoro. No obstante no hay una limitante para no poner las orejas al tanto de esta propuesta atrevida, con un sonido fresco y con mucho que contar. Un poco de ruido contra el sistema no hace daño de vez en cuando...

Para que se den un quemon de la calidad y el sello particular de este trabajo puedan escuchar un poco en www.myspace.com/thetacits y buscar en www.poderato.com/rocksonico la entrevista para Rocksonico Radio.


Tracklist:

1. Sleeping Faces.
2. Replacements.
3. Blameless.
4. The Untitled.
5. Messianic Saturation.
6. Mediocrity.
7. Happiness Is All.
8. Strangers All Around.
9. Stop it!