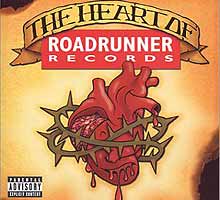 Varios artistas
THE HEART OF ROADRUNNER RECORDS
Roadrunner Records

Sin duda, Roadrunner Records ha sido una de los sellos mas exitosos del genero Heavy del mundo, ha sido punta de lanza para varios proyectos que alcanzaron el estrellato en su momento, este disco es una muestra o una celebraci√≥n de la disquera, en este disco acoplado podr√°s escuchar lo mas representativo del sello, el acoplado re√ļne 20 temas entre viejos √©xitos y cortes in√©ditos o rarezas.

Ill Nino (remix de "Unreal")
Slipknot (remix de "Spit it out")
Soulfly (Possibility of life's destruction)
Stone Sour ("Rules of evidence")
Coal Chamber ("Loco")
King Diamond ("Abigail")
Obituary ("The end complete")
Deicide ("Dead by dawn")
Type O Negative ("Christian woman")
Sepultura ("Roots bloody roots")
cover The Cure ("Fascination street"), a cargo de Chimaira.

Este disco es ampliamente recomendado para los amantes del metal, hardcore y trashmetal.